Seimei healing – MaNi Power Workshop
November 12, 2016 @ 1:00 pm

-

4:00 pm

$69
Harnessing the Power of Mani with Seimei Healing
Spend an enlightening and healing afternoon with Sheryl Blumenthal and
SEIMEI healer, Nicola Bertolo!
The afternoon will begin with messages channeled by Sheryl for the greatest good of all. Sheryl is a loving messenger, a profoundly gifted spiritual teacher, and sacred vessel. She is passionate about helping people to journey towards achieving their soul's quest and realizing their true gifts. She assists individuals in the release of fears and emotional blockages that stem from their cellular origin (DNA). When these emotional burdens are freed, true inner joy, happiness, health, abundance and vitality return naturally. This inner wholeness ("heaven within") affects all of mankind, our entire world, and the Universe. Sheryl is passionate about Seimei.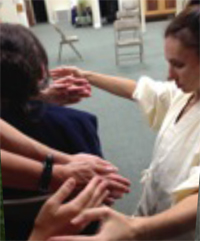 In the second part of the afternoon, Nicola Bertolo,  the foremost instructor for Seimei in the United States, will provide attendees with practical healing methods that provide pain relief in themselves, their families, their friends, their animals and this world. In addition, participants will learn to improve the water that they drink, the food they eat and so much more.
The ancient Seimei teachings allow miracles to become a daily way of life. It stems from our Buddha nature. Seimei healing is immediate, with deeper-acting results easily transcending the universal laws, as we know them, of time, space and mass. For more information, visit  Seimei Foundation
"A co-worker of mine had suffered for several years with pain in her neck. The pain had became so intense that she couldn't put her head in certain positions. After only 10 minutes of SEIMEI, she looked at me in shock and asked, " What did you just do? I can move my head and most of the pain is gone!" ~CL
"The other day I tripped and banged my knee. I immediately did SEIMEI on the injured area and the next day I had no discomfort or bruises from a fall that in the past would have left me sore for days. I feel SEIMEI has taken me from being a person helpless in the face of day to day bumps and bruises to a person who can more easily flow through situations without suffering the usual consequences." ~Sheela Hewitt
"The husband of a friend is a plumber who had a boiler blow up in his face. After visiting the emergency room and being told he would have a long recovery, his wife called me to do SEIMEI. After I worked on him, he went for a follow-up visit with his doctors who were amazed by the amount of tissue healing, especially around the ears where the majority of his aggressive second degree burns had occurred." ~R. Rodman
"When I first began receiving SEIMEI Sessions, I had carpal tunnel syndrome. It was so bad that I found it difficult to hold anything. After several sessions, my carpal tunnel syndrome was gone and I felt much better all over." ~Kathy Leone
"I had excruciating sciatica pain for 10 years. My MRI showed a herniated disk in my 5th lumbar vertebrae and my chiropractor recommended surgery. Instead, I tried SEIMEI sessions. After 7 sessions (in only 3 weeks), I went to work all day and came home pain-free — my first pain-free day in 10 years. My pain is still completely gone and I have more flexibility in my lower back than ever before." ~Barbara Anderson
Participants will receive a couple of healing MaNi Seals complimentary. A package can be purchased after the event to do at home for only $20.
This afternoon with Sheryl and Nicola will be extremely powerful and transforming!
About Sheryl Blumenthal
Sheryl Blumenthal, lovingly referred to as "The Little One", is a pure vessel for the I AM. This heartfelt messenger is divinely guided. She's referred to as the master's healer. Through rare abilities her gifts offer love, healing, peace, and direct guidance through an extremely powerful and transforming unity with the Council of Elders. These angelic presences throughout history, are revered sentient beings of 'the most high'. Most lovingly, they assist the transformation of our earth towards her highest ascension. The messages and the light that come forth are direct, vital, and pure. This child's inner beauty and light will touch you deeply.
"Dear Sheryl, I have an entire drawer of tapes that I have collected over the past 20 years from various readers. I want you to know, my sweet friend, that yours is the only one I ever play. It soothes my soul and lifts my heart. Thank you for being you." Judy H. New Jersey
"Sheryl's gift reveals to us who we truly are." Beth, Quebec
About Nicola Bertolo
After the
Barcelona Olympics, Nicola made a most pivotal life choice. In the town in Japan where she had stayed throughout her olympic training, a man with leukemia was progressing steadily in his health. As a direct result from his studies within a form of Buddhism, which he was learning during his illness, came remarkable results causing positive, most amazing change. This man grew continually healthier.
Nicola became fascinated with the changes that countless people were experiencing in their lives around this form of teaching. Determined, Nicola began "these new studies" with the same focused discipline, commitment and passion that she had applied to Judo. As a teacher of this technique for over 25 years, she is the USA's foremost instructor.
President of the not-for-profit US organization, The Seimei Foundation, Nicola teaches people around the world about their Buddha Nature (Hoju)- an aspect of themselves that cannot be seen, but is proven to exist through results. She travels regularly to Japan with students, assisting them in their own development within these studies. She also provides practical workshops for all interested in learning more about their innate truth … their own divine being, which helps each of their own lives, their families, our family of man, as well as the health of our planet, as a whole.